Shadan and Majid, originally from Kirkuk in northern Iraq came in January 2015 to Chicago and have settled in the divers Rogers Park neighborhood. On Sundays, Majid's day off work, the family enjoys time at the lake. After many years of living through the terror of war and car bombings in Iraq, the family feels safe while missing their loved ones back home.
Majid remembers the day they finally got their approval to resettle after a 4 year waiting period. They were allowed to bring seven bags of personal items to the US. While Shadan insisted to bring her pressure cooker, this wooden box with an imprint of their home country's map is especially valuable to Majid and he decided to bring it.
Shadan is helping her children, Baban and Rose to get ready for school. Baban joined a Head Start program at the local YMCA and Rose loves going to the neighborhood's elementary school. Within a year, Rose is speaking fluently english and Baban is picking up bits and pieces along the way. Shadan is happy that her children didn't had difficulties to adjust to the new country and people around them.
When New Americans arrive in the US, they are required to find work as soon as possible to be able to pay their rent after the first three months of coverage is running out. With the help of the Ethiopian Community Network, Majid found work at Federal Mogul, a international suppliers of automotive products. He is working the second shift from 3 pm till 11 pm, Monday through Saturday and so able to pay the high rent and living cost for his family.
Shadan loves make up and dreams of having her own beauty salon as well as getting more education to become a teacher. Since arrival in Chicago, Shadan had difficulties adjusting. She missed her family a lot and often daily skyped or communicates trough facebook with her siblings and parents. 'It takes a lot of time to adjust to new faces, new behaviors and cultural differences, it's not easy to become part, to fit in, explains Majid.'
While picking up some furnitures for the kids room form friends who are downsizing, Baban and Rose are beyond excited to try out the trampoline and play with the dogs.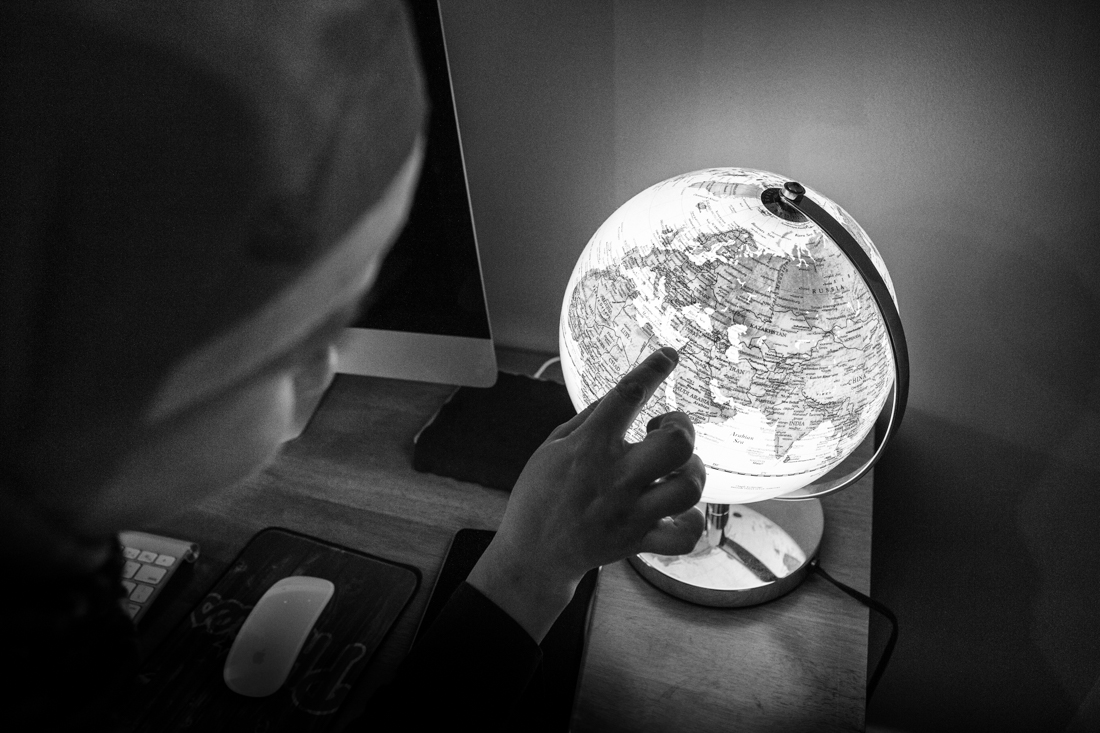 Rehab is pointing out her home country of Syria. She and her family have been adjusting in Chicago and she is very happy to be here.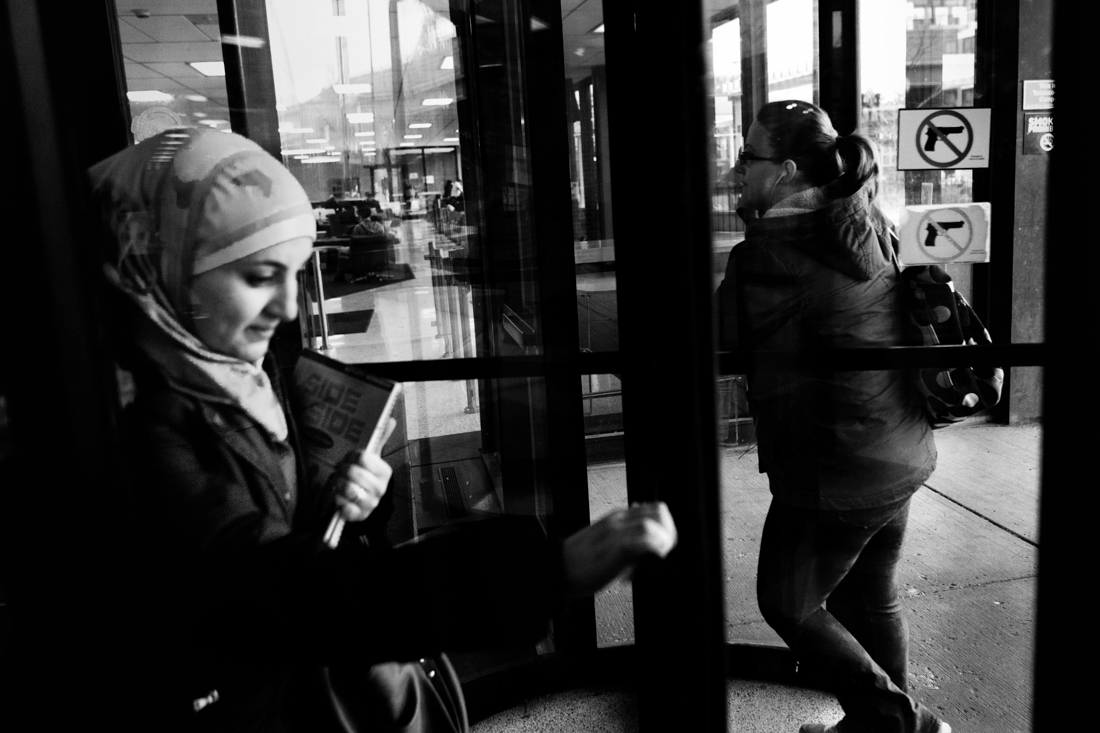 The Syrian community network linked Rehab's family with another local family and together they meet once a week for dinner.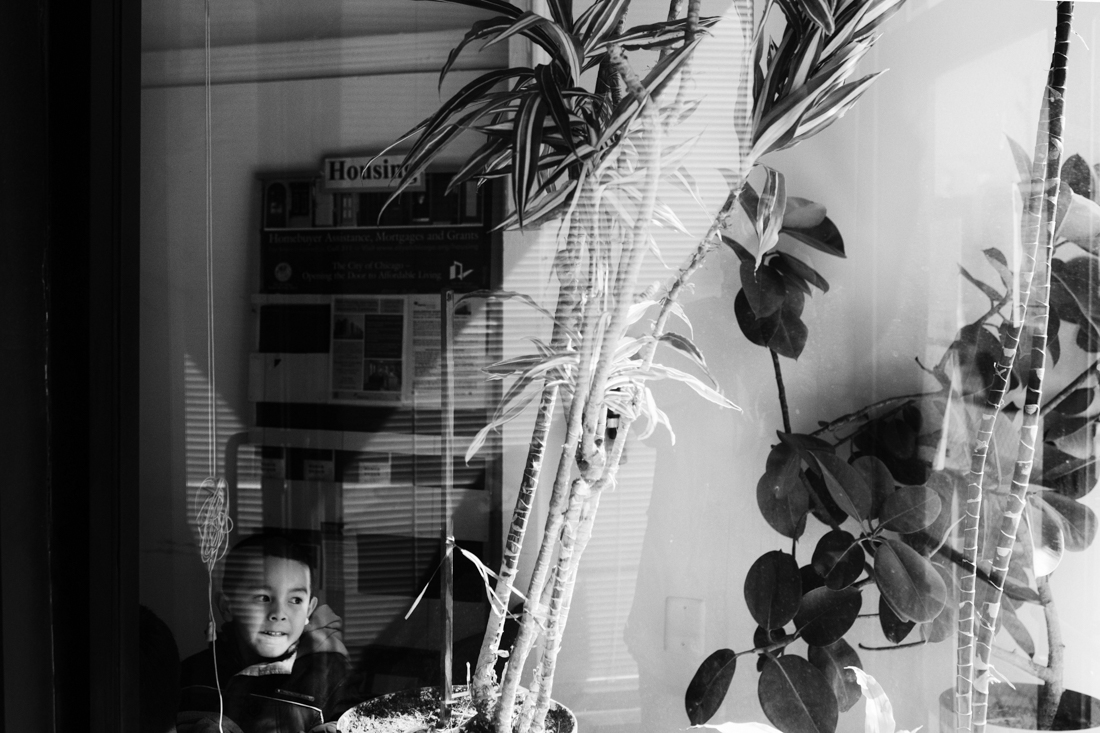 A young boy is looking outside the window at the Chinese Mutual Aid Association in Uptown. Mutual Aid Associations are vital to assists refugees, immigrants and people from all socioeconomic and ethnic backgrounds with social services like adult education, citizenship and immigration, in-home services, employment services, youth programs and much more.
I miss you all. A photographic exploration about refugee resettlement in the US and particular Chicago. Refugees from Syria, Iraq, Laos, Cambodia and the Republic of Congo who came to Chicago between 1983 and 2016 are sharing their struggles, hopes and dreams and reflect on the significance of home, past, present and future.